Why a Mobile App is an Essential in 2017
2017-01-23 by Admin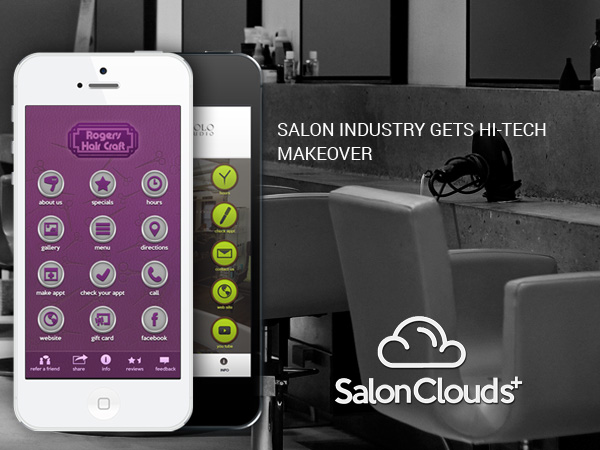 If you've been putting off getting a mobile app for your salon & spa because you thought they were just a trend ... think again! The majority of your clients are mobile, many not even having desktops anymore, and some are even phasing out of notebooks and going toward mobile tablets.
In fact, I'm not even just talking about your clients but also it includes your B2B partners, your potential clients and even your competition. Mobile technology is so big now that it's difficult not to get sucked in and can actually be hurting your business by not having a mobile app.
At SalonCloudsPlus, we build mobile apps with the latest technology and uses each clients' unique brand style to build a mobile app that will have your clients using your mobile app for all their salon & spa needs.... and telling their friends about it!
Wondering what the top trends for mobile apps are in 2017?
?Integration with social media and websites – we are seeing apps, websites and social media merging and becoming one comprehensive front. By giving your users social connectivity that flows from platform to platform, it makes it easier for them to use.
?Mobile apps are already beginning to use AI tools such as Siri, Cortana, and Watson to provide real-time answers to the questions your clients need right away.
?Brand expansion – mobile apps have the opportunities for brand interaction with mobile surveys, push notifications, and social interactions.
?Wearables – with more and more consumers using smart watches, the need for mobile integrations are becoming a necessity to broaden the appeal of wearables.
?Automation – push notifications, listing specials and events on your mobile app can be a cost-efficient way to get appointment notifications and news out to your clients, saving you time and money as older, outdated methods can be used less.
If your salon & spa doesn't have mobile app experience, then the best course is to hire SalonCloudsPlus to build your app, and train you so that you are using your new technology efficiently. Need a new mobile-friendly website or haven't seen our mobile app in action? Email us for a free demo of the system at app@webappclouds.com or check out the website at www.SalonCloudsPlus.com.