Successfully Setting Up Your Google My Business Listing
2019-07-31 by admin
Google My Business (GMB) is something you will definitely want to set up for your salon and spa. GMB has become a core element for local SEO, so it's crucial to not only keep it accurate and up-to-date but also to utilize it the way it should be.

Local research has shown that at least 50% of consumers visit a business or store on the day they perform a local search. The bigger statistic is that 80% of consumers lose trust in local businesses that have incorrect or inconsistent business and contact details online. You will want to keep your NAP (Name, Address, Phone number) consistent across all your listings, including GMB.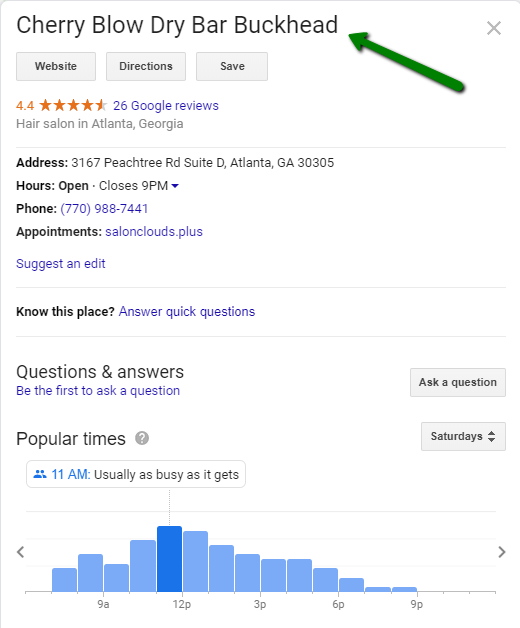 Today, we want to talk about successfully setting up Google My Business to get your started on optimizing your local SEO. Next time, we will visit GMB postings and how to post these, how often, and how to track their success rate.

Here's how to get your business set up on Google:
Set up a new Google account if you don't already have one.
Go to google.com/business – and click 'Start Now'
Enter your salon name – be consistent with the name.

If you have another location in your region, you'll see the autocomplete function suggest those for you. This is to see if your business listing already exists (to stop duplication), and to add a new GMB profile to your existing listing if you just opened a new location.

Enter your address.

You are not a SAB – Service Area Business that delivers goods or services so leave that box unticked.

Choose your business category. This is an important field because it influences the kinds of search terms you appear in Google for, and this will appear in your GMB profile. 

You can adjust this later but it will require re-verification. Please note, GMB is always tweaking and updating their tools. At the time of writing this: Health and beauty businesses may be able to add a booking button to their listing. So, stay up-to-date on new additions to GMB. 

Add a contact phone number and website URL. This allows your potential customers to connect with you but it also allows GMB functionalities like call tracking.
Complete your Google My Business Verification. Google needs to be able to prove that your business is where you say it is. You have three options:

Postcard verification: A postcard will be sent to your business in about 5 days. It will have a code on it that you will enter into your GMB account to verify. 
Phone verification: If you are eligible for this option, you will see the 'Verify by phone' at the beginning of the verification process. You will receive an automated call to your salon location with a code to enter into your GMB account.
Email verification: Like phone verification, this is only available to some business, and you will see a 'Verify by email' option. You will get the code via your email associated with your GMB listing. 
What's next? Once you have officially verified your Google My Busines listing, it's time to optimize your salon listing! 
Now you can:
Add photos and videos to your listing
Write and optimize your business description 
Use Google My Business Q&A's to help you understand your audience
Create GMB posts to showcase offers, promotions, use it as a call to action, and more. 
Add service menus and product collections
Encourage customers to 'Follow' you on Google Maps
Start requesting and managing Google Reviews
You can delve into your Google My Business Insights to learn things like: 
How many people called you
How many people visited your website
The number of calls from your GMB to your business
The amount of people that viewed photos of your business 
How many people searched for driving directions to your salon location
You can also benchmark your business's GMB performance against others in your industry. 
Google My Business has quickly become THE key listing for businesses. Make sure your SEO is optimized will an accurate and complete GMB listing and take advantage of the GMB posts function which will be covered in our next blog. 

Sometimes this type of marketing can just be too much for you to handle. After all, beauty is your business, not social marketing. SalonCloudsPlus can help with your marketing needs, write blogs, build a custom mobile app, set up your social marketing advertising, and more. We'd love to discuss with you how we can help you take your business to the next level. Check out our website, give us a call at (888) 909-1051 or email us at app@webappclouds.com.